These are just sample dishes. Executive Chef Kevin McCombs works
with each group to tailor a menu to their needs while working around
any preferences or dietary restrictions.
---
Blue Crab Cakes with Bacon Caper Remoulade
Goat Cheese Stuffed Palisade Peach with Candied Pecans
Heirloom Tomato Relish on Parmigiano Crisps
Mango Tuna Poke in Wonton Cups
Fried Stuffed Mushrooms
Bacon Wrapped Tiger Shrimp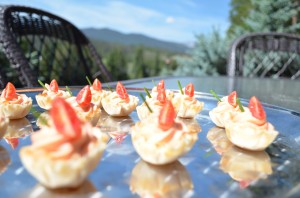 Broccoli and Sharp Cheddar Tart
Pork Rillette with Caramelized Pears
House-Made Black Bean and Corn Cakes with Avocado Crema
Marinated Cherry Tomato and Mozzarella Skewer
Bing Cherry Jam and French Brie on Puff Pastry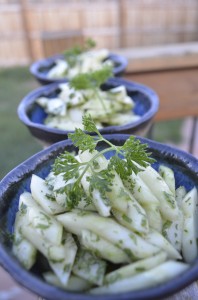 DISPLAYED
Five Select Cheeses and Fresh Fruit
Three Select Cheeses and Dry Cured Meats
Shrimp Cocktail
Bacon, Spinach and Artichoke Dip
House Cured Culinary offers personal chef services
in the Breckenridge, Keystone, Frisco, Copper Mountain and Vail Valley area.