These are just sample dishes. Executive Chef Kevin McCombs works with each group to tailor a menu to their needs while working around any preferences or dietary restrictions.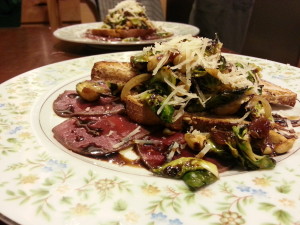 Lemon Thyme Broiled Rocky Mountain Trout, Sautéed Green Beans, Cheesy Polenta
Shallot and Herb Marinated Chicken Breasts, Sour Cream and Onion Whipped Potatoes, Seared Broccoli and Sharp Cheddar Cheese
Hickory Salt Grilled London Broil Spinach, Artichoke and Boursin Risotto Sugar Snap Peas
Coq Au Vin with Poultry Reduction, Bacon and Mushroom Risotto, Sautéed Asparagus
Char Grilled Flat Iron Steak with Parmigiano, Cream Sweet Corn, Whipped Potatoes, Caramelized Brussels Sprouts
Corvina Sea Bass Topped With Orange and Shaved Fennel, Olive Oil and Basil Cous Cous, Roasted Golden Beets
Shallot and Herb Marinated Beef Tenderloin Steak, Prosciutto Wrapped Asparagus, Asiago Polenta Cake, Pancetta Shellfish Cream
Cumin and Coriander Rubbed Pork Tenderloin and Baby Shrimp, Roasted Poblano and Manchego Whipped Potatoes, Baby Carrots, Sauce Mole
Rocky Mountain Elk Steak with Grilled Granny Smith Apples Sweet Potatoes with Cranberries and Roasted Pecans Sauteed Green Beans, Orange Bourbon Poultry Reduction
Tarragon and Dijon Rubbed Wild Caught Alaskan Salmon Forrest Mushroom and Gruyere Risotto, Green Beans Amandine Truffled English Pea Cream
House Cured Culinary offers personal chef services in the Breckenridge, Keystone, Copper Mountain and Vail Valley area.